Oil Country Manufaturing
Well Service Equipment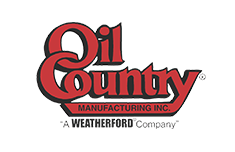 Topco Oilsite Products Ltd. is the Canadian master distributor for the Weatherford OCM line of high quality well servicing equipment. These products have been manufactured under the API Monogram and are recognized internationally for their engineering excellence. The OCM lines cover casing and tubing tongs, power rod tongs, and the TorkWrench TM Iron Roughneck.
Oil Country Manufacturing is known for its innovative product designs based on years of field research, dedication to quality and service, and high customer satisfaction due to lower operational costs, reduced downtime, and improved safety records. All products are subject to inspection of materials, dimensions, function and load test.
Topco Oilsite carries a full range of the OCM product line in our Edmonton Distribution centre and can provide product engineering and performance information upon request.